Thank you  for visiting the Clermont County Mental Health & Recovery Board. Our website is designed to provide general information about the Board, links to the Board's contract agencies in Clermont County providing prevention and treatment programs and services, and links to additional information about mental health and substance use disorders.
---
An Equal Opportunity Provider and Employer
In accordance with Federal Law and U.S. Department of Agricultural Policy, this institution is prohibited from discriminating on basis of race, color, national origin, age, disability, religion, sex, familial status, sexual orientation, and reprisal. (Not all prohibited bases apply to all programs)
---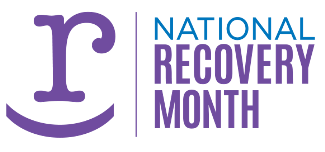 National Recovery Month occurs each year during the month of September.
Did you know that about 4.2 million people in the U.S. over the age of 12 received some kind of substance use treatment within the past year (2019 National Survey on Drug Use and Health)?  In addition, the survey estimates that 21 million people in the same age range needed substance abuse treatment in the past year. Considering these stats, you probably know someone fighting addiction.
National Recovery Month – now in its 32nd year – recognizes the millions of Americans in treatment for substance misuse, as well as recovery service providers. It also encourages those struggling with substance misuse to seek professional help. Faces & Voices of Recovery, a non-profit group dedicated to supporting people recovering from drug addiction and their families, hosts the observance.
The theme for 2021's Recovery Month is Recovery is For Everyone: Every Person. Every Family. Every Community.
For more information about Recovery Month, including events, promotional downloads and more visit https://rm.facesandvoicesofrecovery.org/
---
Week of Appreciation
September 20 – September 26, 2021
#BringingHelpBringingHope
Thanks to the tireless efforts of frontline workers, Ohio has seen a decrease in deaths involving heroin in recent years. However, we are still facing an addiction and overdose epidemic like never before, which has been exacerbated by the COVID-19 Pandemic. Ohio's frontline workers need our continued support. The Week of Appreciation is an opportunity to show support and appreciation to those who work directly with individuals struggling to overcome substance use disorders. This includes behavioral healthcare workers, police officers, firefighters, EMTs, children's services workers, emergency department staff, and anyone else who may experience burnout or secondary trauma as a result of their work with individuals with addiction. Local Alcohol, Drug Addiction, and Mental Health (ADAMH) Boards will work with their County Hubs to plan and host events and activities to thank local frontline workers.
---
FOR IMMEDIATE RELEASE
August 2, 2021
Mental Health & Recovery Board seeks new members
BATAVIA, Ohio — Clermont County residents who have an interest in assisting with the direction of local addiction and mental health services in the county are invited to contact the Clermont County Mental Health and Recovery Board (CCMHRB) about a volunteer position on its Board of Directors.
There are currently five vacancies on CCMHRB's Board of Directors.
The Board of County Commissioners is responsible for appointing eight members of the Board. Five of those positions are filled.  Three positions are available.
The Ohio Department of Mental Health and Addiction Services (OMHAS) is responsible for appointing six Board members, with three of those positions filled and one in process. Two positions are available.  Priorities for these OMHAS appointments are for a person who has received services for mental health issues or alcohol and/or drug use, a family member of someone who has had a mental health or addiction issue, or someone who is working or has worked in the mental health and addiction field, or who has been involved in advocating for mental health and/or alcohol/drug services.
The selected individuals will be part of a fourteen-member board representing a variety of interests, including professionals from the mental health and alcohol/drug fields, family members, individuals in recovery, and community representatives. The Board meets monthly on the second Monday of the month at 7:00 pm; members also are involved periodically in meetings for one of two committees – Finance and Program. Terms for Board members are four years, and a member can serve two terms.
CCMHRB is the local board of alcohol, drug addiction, and mental health services. It is the county agency responsible for planning, monitoring, evaluating, and funding all mental health and addiction services in the county provided through public dollars.
Both the County and OMHAS have application forms that potential Board members must complete, and Board staff will provide those to you if interested.
If you are interested in serving on the Board, please send a letter of interest and a resume to CCMHRB at 2337 Clermont Center Drive, Batavia, OH 45103 or by email to cknoblauch@ccmhrb.org. For more information, call the CCMHRB office at 513-732-5400.                
---
THANK YOU CLERMONT COUNTY
We wanted to express our EXTREME gratitude to Clermont County residents for passing our renewal levy. We remain committed to serving the county efficiently and effectively. THANK YOU CLERMONT COUNTY!!!!
---
August 31 is Ohio Overdose Awareness Day. 
In June 2021, Governor Mike DeWine signed a bill recognizing the day to help raise awareness and remember the lives lost to the opioid epidemic.
Each year, we lose thousands of individuals to drug overdose in the United States.  The Ohio Overdose Awareness Day provides an opportunity to not only honor those we have lost, but to reflect on practical ways to prevent overdose in Clermont County.  Overdose is preventable!  Knowing the facts about drugs and what to do when you see someone experiencing an overdose can save lives.  One fact is that any illegal drug could contain fentanyl which greatly increases the chance for overdose.
Naloxone is available for free, after a brief training, to anyone in Clermont County.  Naloxone can be obtained at Clermont Recovery Center located at 1088 Wasserman Way, Batavia Ohio 45103.  The phone number is 735-8100.
The Clermont County Opiate Task Force is encouraging Clermont County residents to pause for a moment of silence at 12:00 pm on Monday August 31 to remember those who have lost their lives to drug overdose and addiction.
Governor DeWine's bill states that state flags displayed at state buildings or public institutions will be flown at half-staff from sunrise until sunset on August 31.
If you are struggling and need help, you can call the Clermont County Crisis Hotline 24/7 at (513) 528-7283 for linkage to treatment and resources.   For more information on the Clermont County Opiate Task Force, please contact Lee Ann Watson at (513) 732-5400.
---
National Minority Mental Health Awareness Month
National Minority Mental Health Awareness Month is observed each July to bring awareness to the unique struggles that racial and ethnic minority communities face regarding mental illness in the United States. The COVID-19 pandemic has made it harder for racial and ethnic minority groups to get access to mental health and substance-use treatment services.
Throughout the month, the HHS Office of Minority Health (OMH) will focus on promoting tools and resources addressing the stigma about mental health among racial and ethnic minority populations, particularly during the COVID-19 pandemic.
OMH encourages state, tribal, and local leaders, community-based organizations, faith leaders, healthcare providers and individuals to educate your communities regarding mental health stigma.
Visit this web page during National Minority Mental Health Awareness Month for shareable social media messages, downloadable graphics, and health resources. Follow us on Twitter 
, Instagram 
, and Facebook 
, and sign up 
 for OMH newsletters for additional updates.
Check out the OMH Knowledge Center online catalog 
 for publications and resources that highlight the importance of spreading awareness on how to avoid and help dissipate mental health stigma in minority communities.
GET IN TOUCH
Toll Free: 1-800-444-6472
---
COVID-19
If you have questions regarding COVID-19, please visit the Clermont County Public Health website at
Clermont County Public Health (ccphohio.org)
---

A CALL TO ACTION
Suicide is a serious public health issue.
Suicide is the tenth leading cause of death in the United States; the second leading cause among 10- to 34-year-olds; and the number one cause of death for Ohioans aged 10-14. Every year, more than 1,800 Ohioans die by suicide.
Clermont County has the second highest suicide rate in Southwest Ohio

.

YOU CAN HELP
The Clermont County Suicide Prevention Coalition is funded by the Clermont County Mental Health & Recovery Board
---

Mental Illness and Substance Use in Young Adults
Entering adulthood can be an emotional time, but sometimes the ups and downs can mean something more.
Millions of young adults are living with a mental or substance use disorder and many either do not realize they have one or are not paying attention to the signs and not seeking help. In fact, of the 8.9 million young adults who reported having a mental illness in 2018, more than 2 in 5 went untreated and of the 5.1 million with a substance use disorder, nearly 9 in 10 did not get treatment.
It is important to remember that asking for help is a normal part of life, and you should never feel like you have to take on the world alone. If you are concerned that you or someone in your life may be drinking too much, using drugs, or dealing with mental illness, there are resources available to help.
References and Relevant Resources
---
 
What We Know About Suicide in the U.S.
Someone dies from suicide every 12 minutes—and over the past two decades, suicide rates have increased in every state across the country. For the first time in recent generations, life expectancy is decreasing due to suicide. According to the latest research:
There were 1.4 million attempts and more than 47,000 deaths from suicide.
Suicide is at its highest level and is still rising.
Rural counties are being hit the hardest with suicide rates double the rate in urban counties.
There has been an alarming 50% increase of suicide rates among women.
Suicide touches whole communities. Each person who dies by suicide leaves behind 135 people who knew that person—and the impact of suicide and the bereavement that follow.
---
Know the Risks of Meth
Methamphetamine (meth) is a powerful, highly addictive drug that causes devastating health effects, and sometimes death, even on the first try.
Meth is easy to get addicted to and hard to recover from. Meth is a dangerous, synthetic, stimulant drug often used in combination with other substances that can be smoked, injected, snorted, or taken orally. Someone using meth may experience a temporary sense of heightened euphoria, alertness, and energy. But using meth changes how the brain works and speeds up the body's systems to dangerous, and sometimes lethal, levels—increasing heart rate, blood pressure, body temperature, and respiratory rate. Chronic meth users also experience anxiety, confusion, insomnia, paranoia, aggression, visual and auditory hallucinations, mood disturbances, and delusions.
The Rise of Meth Use in the United States
The number of fatal overdoses involving meth has more than tripled (PDF | 336 KB) between 2011 and 2016, according to the CDC. Use is also on the rise between 2016-2018 for most age groups. In 2018, more than 106,000 adults aged 26 or older used meth—a 43 percent increase over the previous year.
Short-term Effects of Meth
Even taking small amounts of meth, or just trying it once, can cause harmful health effects, including:
Increased blood pressure and body temperature
Faster breathing
Rapid or irregular heartbeat
Loss of appetite, disturbed sleep patterns, or nausea
Bizarre, erratic, aggressive, irritable, or violent behavior
Long-term Health Risks of Meth
Chronic meth use leads to many damaging, long-term health effects, even when users stop taking meth, including:
Permanent damage to the heart and brain
High blood pressure leading to heart attacks, strokes, and death
Liver, kidney, and lung damage
Anxiety, confusion, or insomnia
Paranoia, hallucinations, mood disturbances, delusions, or violent behavior (psychotic symptoms can sometimes last for months or years after quitting meth)
Intense itching, causing skin sores from scratching
Severe dental problems ("meth mouth")
Need Help?
With the right treatment plan, recovery is possible. If you, or someone you know, needs help with a substance use disorder, including meth use, call SAMHSA's National Helpline at 1-800-662-HELP (4357) or TTY: 1-800-487-4889, or use SAMHSA's Behavioral Health Treatment Services Locator to get help.
References and Relevant Resources
Featured Posts
The Clermont County Mental Health and Recovery Board awarded 10 mini-grants to local organizations for the period of July 1, 2021 – June 30, 2022.  The Mental Health and Recovery Board plans, funds, and monitors mental health and addiction services locally.  The grants will fund programs that enhance mental health and/or prevent addiction in Clermont […]